Doktoer
Amanda Haynes
2021-07-13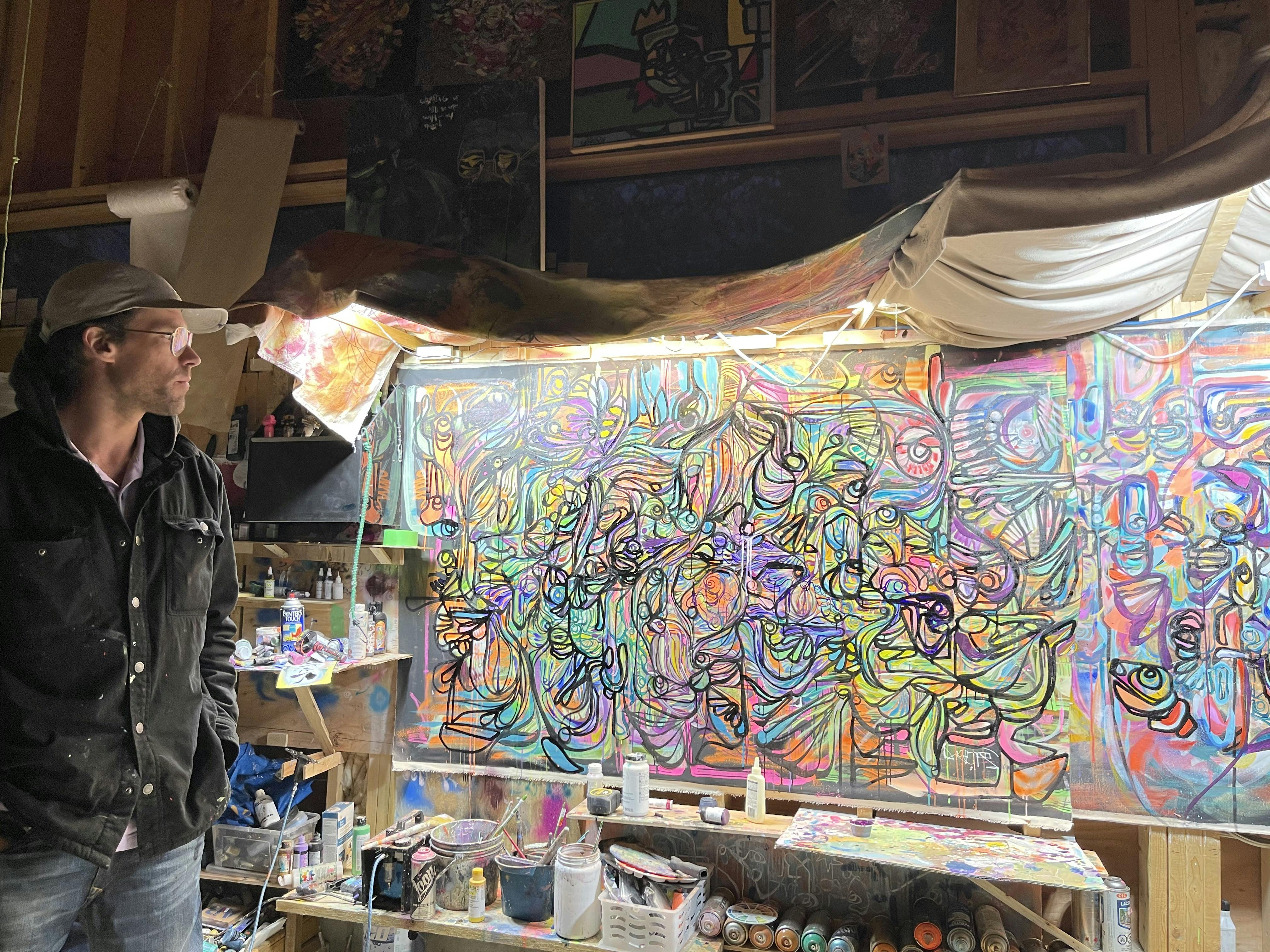 Doktoer contemplating a work in progress at his United Universal Collective Studio.
© Amanda Haynes
Upon walking into Doktoer's studio one passes countless stretched canvases stacked against walls and various rolled canvases tucked by the dozens in nooks and crannies around the room. There's multiple pieces in progress stapled to plywood affixed to the wall - his latest creations.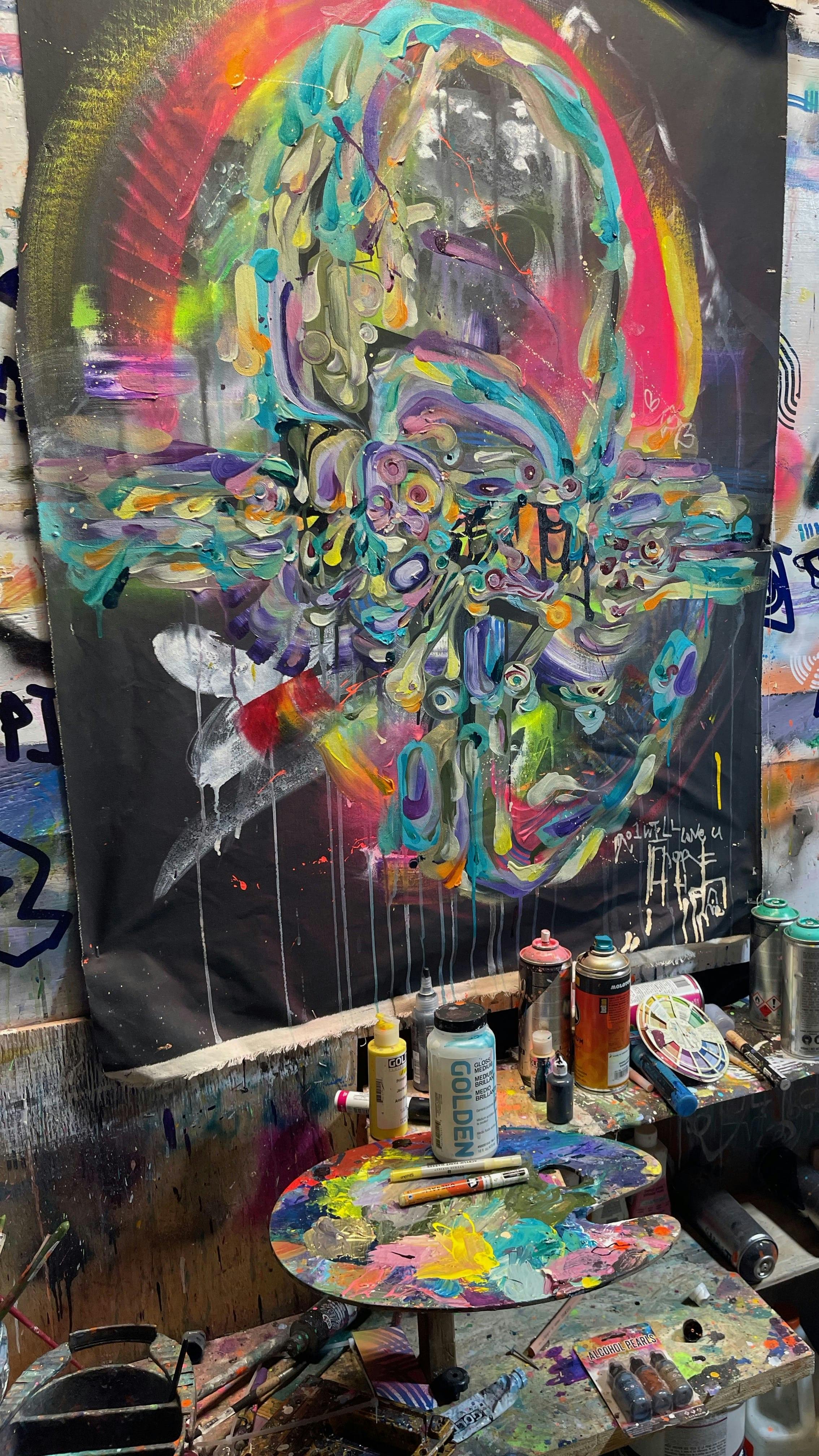 Another work in progress by Doktoer at the United Universal Collective Studio
An active member of United Universal Collective, Doktoer shares his creative space with mindfulness and meditation practitioners and holistic health specialists. Regularly attending sound baths, guided meditations, and yoga classes, he draws inspiration from the connection and experiences the collective fosters. The energy surrounding the space is palpable and infectious. It's the perfect place for creativity to unfold.
A self taught artist, Doktoer's roots are in graffiti. His creative career began in grade 6 writing TOE. His name later evolved to TOERS, then to TOER, but he still hadn't found his flow.
"I can't do letters. I couldn't figure it out, so I started doing characters, because I'm a character".
Drawing inspiration from Ghost, he found his niche painting faces. The evolution of that practice helping to form his signature style today. "The longer you stare at them, the more characters you see". Reminiscent of magic eye posters, the seemingly abstract imagery often contains hidden friends that only time will reveal. After suffering a dislocated shoulder in a snowboarding accident as a young adult he turned his focus to canvas. That's when his hobby transformed into a passion, but he never forgot his roots. He continues to throw down massive aerosol murals with the best of 'em. Give Doktoer any size of canvas at any time of day, and magic will surely happen.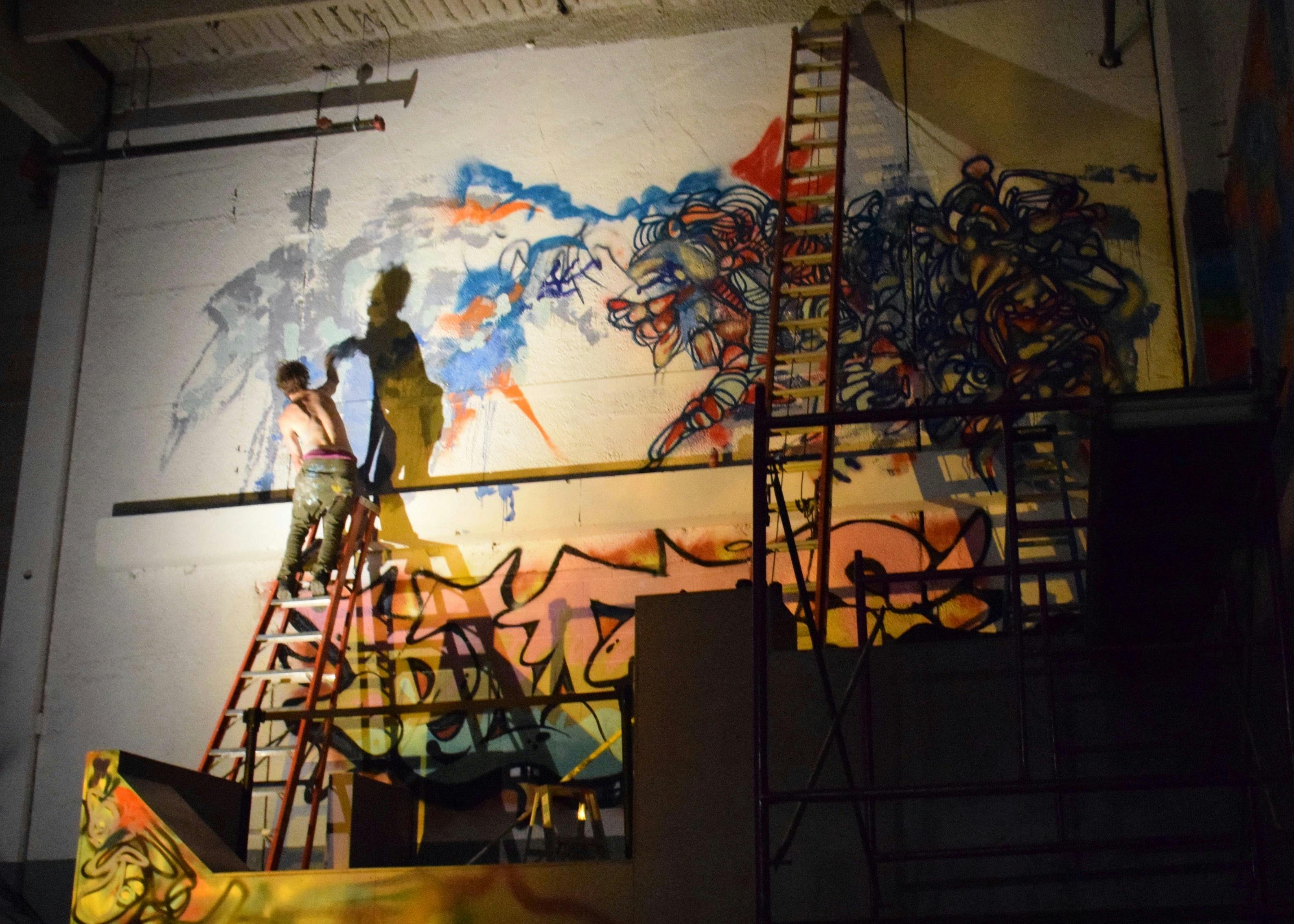 Keeping the party going! Doktoer in early morning flow at the 24 hour Digital Impact Oasis Stage Graffiti Jam hosted by Mixed Manifest.
His enthusiasm for painting is contagious. Always present at art jams and ready to lend a hand to teach beginners through experienced professionals new tricks with the brush, or help them see paths forward where they saw dead ends. His passion for teaching was birthed at a young age. One day while he was skateboarding, an older stranger helped him practice dropping into the bowl. The kindness and patience of his mentor-for-a-day encouraged him to share his talents with others later in life.
"If someone wants to learn, even little kids, take the time. Some won't really care but to others it means the world".
Folks interested in purchasing one of his creations can find one through his online store. Alternatively, if you'd prefer to meet Doktoer in person, you can catch him at one of his many art shows hosted in the UUC space, or at an upcoming art crawl in Medicine Hat on July 23rd & 24th. Be sure to keep an eye on his Instagram and website for more details on upcoming events!